WARWICK APEX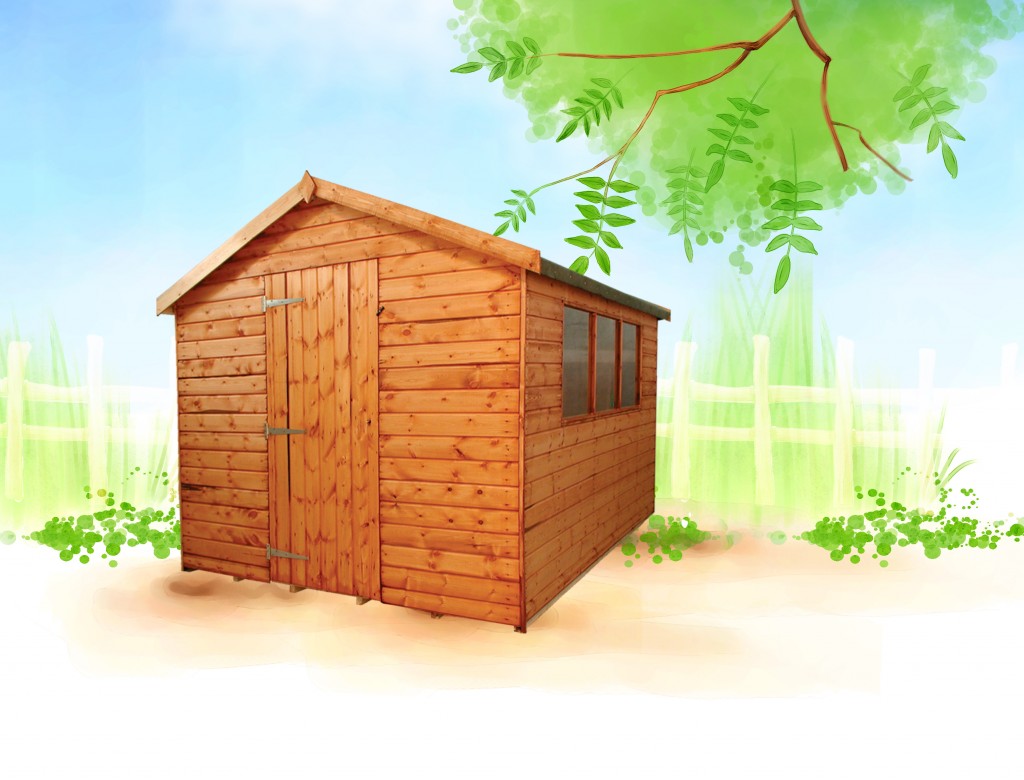 The Warwick Apex: An apex roof shed featuring 15mm tongue groove shiplap on 45mm x 34mm planed framework. Available in a wider range of sizes, the Warwick is supplied as standard with a single fully framed and braced door 790 x 1750mm with lock and key, hung on three galvanised tee hinges. The eaves height is 1.68m.
The Warwick Apex Plus has the added features of 150mm extra height, 45 x 45mm vertical framework and an opening window as standard. The extra height allows a side door to be ordered. The eaves height is 1.8m,
options for both include a extra door or windows, 900mm wide single door or a 1500mm wide double door, The window section can be fitted to either side.
Options for all Models
Opening Window each £29, Extra Single Door £39.
4ft Double Door £69, 5ft Double Door £79, 6ft Double Door £89 in lieu of single door.
Safety Glass per pane £15.
£997
| | | | | | |
| --- | --- | --- | --- | --- | --- |
| 8ft x 6ft | £1,027 |     Erection |  £139 |     Bearers |  £41 |
| 10ft x 6ft |  £1,196 |     Erection |  £159 |     Bearers |  £48 |
| 12ft x 6ft | £1,407 |     Erection |  £199 |     Bearers |  £66 |
| 14ft x 6ft | £1,648 |     Erection |  £209 |     Bearers |  £79 |
| 8ft x 8ft | £1,267 |     Erection |  £179 |     Bearers |  £58 |
| 10ft x 8ft | £1,402 |     Erection |  £199 |     Bearers |  £66 |
| 12ft x 8ft | £1,663 |     Erection |  £239 |     Bearers |  £79 |
| 14ft x 8ft | £1,917 |     Erection |  £279 |     Bearers |  £88 |
| 16ft x 8ft | £2,184 |     Erection |  £299 |     Bearers |  £119 |
| 18ft x 8ft | £2,516 |     Erection |  £329 |     Bearers |  £135 |
| 20ft x 8ft | £2,743 |     Erection |  £349 |     Bearers |  £149 |
| 8ft x 10ft | £1,614 |     Erection |  £189 |     Bearers |  £66 |
| 10ft x 10ft | £1,798 |     Erection |  £229 |     Bearers |  £75 |
| 12ft x 10ft | £2,170 |     Erection |  £279 |     Bearers |  £115 |
| 14ft x 10ft | £2,580 |     Erection |  £319 |     Bearers |  £125 |
| 16ft x 10ft | £2,940 |     Erection |  £329 |     Bearers |  £135 |
| 18ft x 10ft | £3,405 |     Erection |  £369 |     Bearers |  £145 |
| 20ft x 10ft | £3,716 |     Erection |  £389 |     Bearers |  £155 |