MAJOR PENT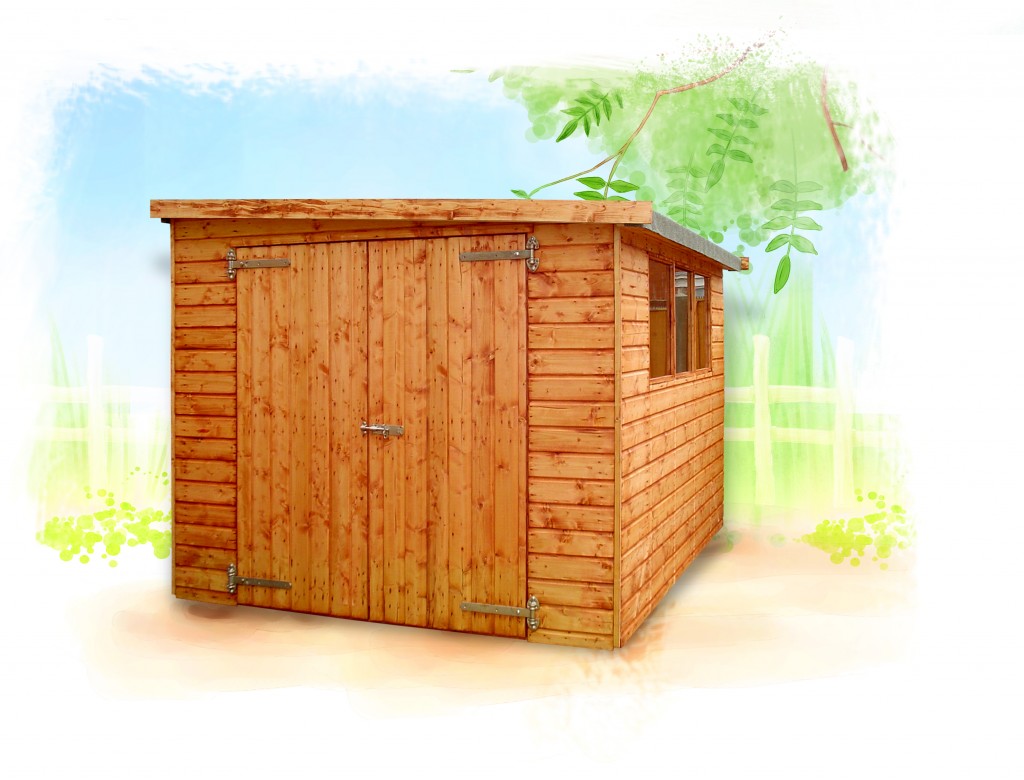 A pent roof shed featuring 15mm tongue & groove shiplap on a 60mm x 50mm  framework.  Available in a wide range of sizes and a choice of door positions.  The Major is supplied as standard with a single ledged and braced 790 x 1750mm door with Rim lock and handle, hung on two heavy duty galvanised tee hinges.  Options include an opening window, 900mm wide single door or a 1500mm wide double door, Opening windows, Stable style door.  Internal  height is 1.98m to the low side and 2.1m to the high side.
Options for all Models
Opening Window each £29, Extra Single Door £49.
5ft Double Door £89, 6ft Double Door £89, 7ft Double Door £99 in lieu of single door.
Stable Door in lieu of std door £29.
| | | | | | |
| --- | --- | --- | --- | --- | --- |
| 8ft x 6ft | £1,296 |     Erection |  £169 |     Bearers |  £41 |
| 10ft x 6ft | £1,572 |     Erection |  £189 |     Bearers |  £48 |
| 10ft x 8ft | £1,760 |     Erection |  £239 |     Bearers |  £66 |
| 12ft x 8ft | £2,043 |     Erection |  £259 |     Bearers |  £79 |
| 14ft x 8ft | £2,340 |     Erection |  £299 |     Bearers |  £88 |
| 16ft x 8ft | £2,616 |     Erection |  £319 |     Bearers |  £119 |
| 18ft x 8ft | £2,889 |     Erection |  £349 |     Bearers |  £135 |
| 20ft x 8ft | £3,171 |     Erection |  £399 |     Bearers |  £149 |
| 8ft x 10ft | £1,930 |     Erection |  £269 |     Bearers |  £66 |
| 10ft x 10ft | £2,277 |     Erection |  £279 |     Bearers |  £75 |
| 12ft x 10ft | £2,623 |     Erection |  £299 |     Bearers |  £115 |
| 14ft x 10ft | £3,166 |     Erection |  £349 |     Bearers |  £125 |
| 16ft x 10ft | £3,313 |     Erection |  £379 |     Bearers |  £135 |
| 18ft x 10ft | £3,681 |     Erection |  £429 |     Bearers |  £145 |
| 20ft x 10ft | £4,021 |     Erection |  £449 |     Bearers |  £1455 |