MAJOR APEX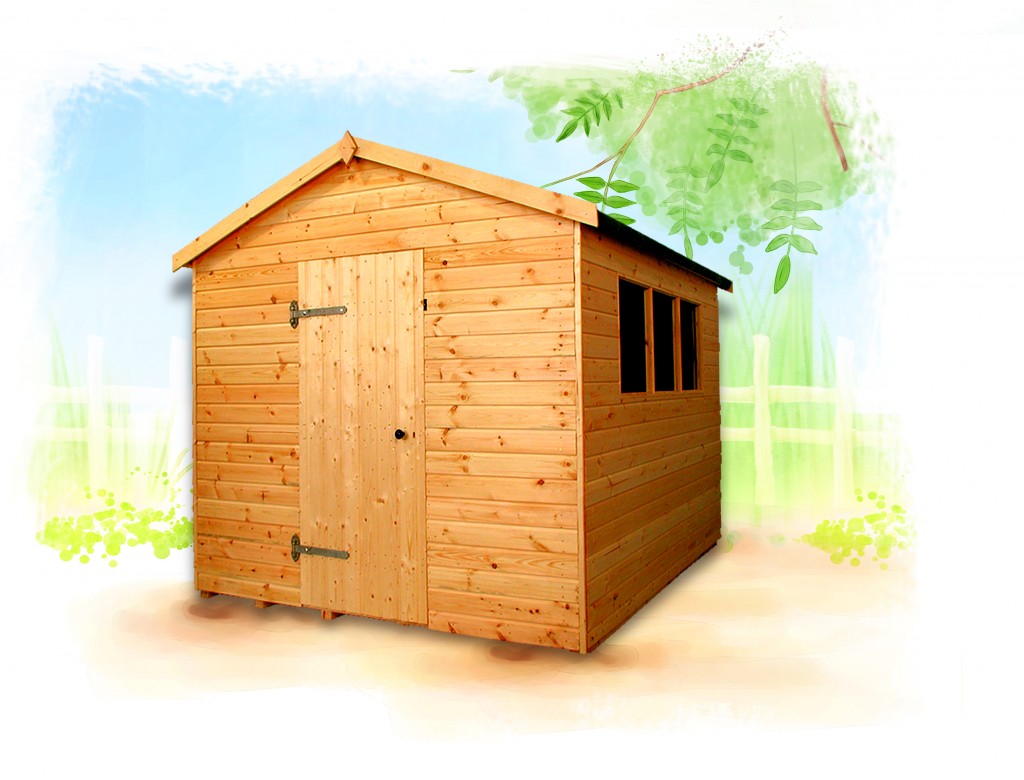 A heavy duty building featuring 15mm tongue & groove, 60 x 50mm sawn framework, 300mm extra height and a taller door.  The Major is supplied as standard with a single ledged and braced door 790 x 1850mm with a rim lock and handle, hung on two heavy duty galvanised hinges.  The extra height allows a side door to be ordered.  Options include an extra door, 900mm wide single door, 1500mm wide double door, stable style door, extra windows and opening windows.  Internal eaves height is 1.98m.
Options for all Models
Opening Window each £29, Extra Single Door £49.
5ft Double Door £89, 6ft Double Door £89, 7ft Double Door £99 in lieu of single door.
Stable Door in lieu of std door £29.
| | | | | | |
| --- | --- | --- | --- | --- | --- |
| 8ft x 6ft | £1,296 |     Erection |  £169 |     Bearers |  £41 |
| 10ft x 6ft | £1,572 |     Erection |  £189 |     Bearers |  £48 |
| 10ft x 8ft | £1,760 |     Erection |  £239 |     Bearers |  £66 |
| 12ft x 8ft | £2,043 |     Erection |  £259 |     Bearers |  £79 |
| 14ft x 8ft | £2,340 |     Erection |  £299 |     Bearers |  £88 |
| 16ft x 8ft | £2,616 |     Erection |  £319 |     Bearers |  £119 |
| 18ft x 8ft | £2,889 |     Erection |  £349 |     Bearers |  £135 |
| 20ft x 8ft | £3,171 |     Erection |  £399 |     Bearers |  £149 |
| 8ft x 10ft | £1,930 |     Erection |  £269 |     Bearers |  £66 |
| 10ft x 10ft | £2,277 |     Erection |  £279 |     Bearers |  £75 |
| 12ft x 10ft | £2,623 |     Erection |  £299 |     Bearers |  £115 |
| 14ft x 10ft | £3,166 |     Erection |  £349 |     Bearers |  £125 |
| 16ft x 10ft | £3,313 |     Erection |  £379 |     Bearers |  £135 |
| 18ft x 10ft | £3,681 |     Erection |  £429 |     Bearers |  £145 |
| 20ft x 10ft | £4,021 |     Erection |  £449 |     Bearers |  £155 |
| 8ft x 12ft | £2,390 |     Erection |  £279 |     Bearers |  £79 |
| 10ft x 12ft | £2,434 |     Erection |  £299 |     Bearers |  £115 |
| 12ft x 12ft | £2,884 |     Erection |  £349 |     Bearers |  £125 |
| 14ft x 12ft | £3,237 |     Erection |  £379 |     Bearers |  £135 |
| 16ft x 12ft | £3,751 |     Erection |  £429 |     Bearers |  £145 |
| 18ft x 12ft | £4,118 |     Erection |  £479 |     Bearers |  £160 |
| 20ft x 12ft | £4,456 |     Erection |  £559 |     Bearers |  £175 |